Solamente se introducen algunas ideas sobre ondas y luz como onda en otros cursos, como

MIT (5 min)

Recursos óptica en general
Introducción a la óptica, presentación de Segundo de Bachillerato sobre Optica, curso 2006/2007
http://www.slideshare.net/everwrest/optica-3848366
Esteban Benitez, Profesor en centro educativo Santa María Claret, licenciamiento no detallado
Molecular Expressions. Science, optics & you.
http://micro.magnet.fsu.edu/optics/index.html
© 1995-2013 by Michael W. Davidson and The Florida State University. All Rights Reserved.
http://fqlibre.blogspot.com.es/p/f2-optica.html
    Presentación sobre óptica: espejos, lentes, leyes de snell, defectos refractivos... (pptx)
    Hoja de ejercicios con soluciones sobre reflexión, refracción, lentes y espejos (docx)
Examples > Physics >Optics
http://www.wolframalpha.com/examples/Optics.html
Reflection & Refraction, Diffraction, Lasers,...
Reservo este hueco para ir citando algunas / ejemplos
I could not believe this illusion I saw today, tweeted out by @pickover... so I coded it myself in @Scratch. This is a fascinating illusion.
https://scratch.mit.edu/projects/188838060/
… Both rectangles are moving at exactly the same speed. #illusion #perception
http://blogs.discovermagazine.com/neuroskeptic/2017/12/08/curvature-blindness-illusion/#.WjBhrfZrzQp
https://es.gizmodo.com/da-igual-cuanto-fuerces-tu-cerebro-las-lineas-azules-d-1823730730
https://twitter.com/mrnickharvey/status/1051396885431418880
All the horizontal lines are actually parallel and I can't stop staring at them.
V5 is firing due to V4 saturation!
A tussle for supremacy between left and right halves of your brain is why yellow dots disappear, staring at the green one 
A four-color Munker illusion: Although they appear to be pink, yellow, orange, and nearly white, all four background ovals are the same color  (RGB 255,236,196). Original png file is at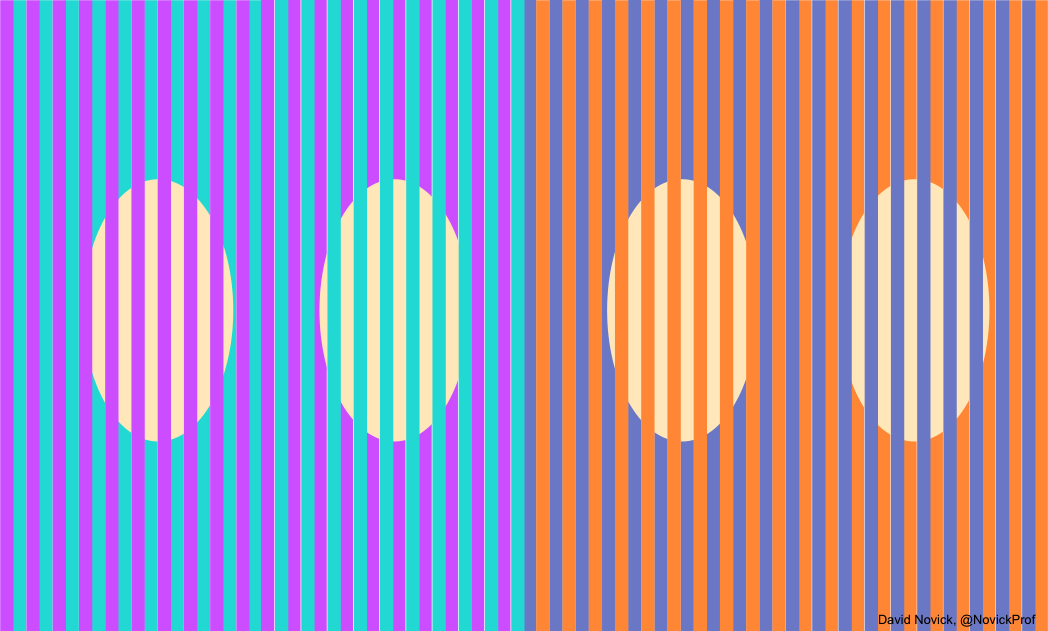 One of the most powerful motion illusions I've seen: The cubes appear to be rotating in opposite directions – but they're not actually moving at all…
Credit: @jagarikin

The ambiguous illusion objects invented by mathematician Kokichi Sugihara now include a Batman logo, printed and sold by 3DNY Design [source, more:
https://buff.ly/2yHS4yB
]